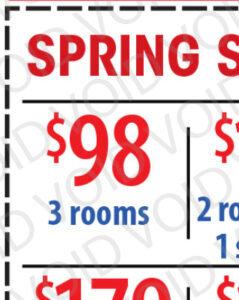 As a local small business, OxyMagic understands the value of hard earned money and we are happy to offer monthly specials that rotate often.
If you are looking for printable coupons for carpet cleaning head over to our
We are always testing new deals while keeping things fair for both parties and are confident are pricing is highly competitive throughout the year.
For example take a look at this combo cleaning coupon that was utilized earlier this year:
Once again, if you are interested in saving money see if one of our coupons will work with your needs.
We serve the following areas for carpet cleaning, hardwood floor cleaning, and upholstery cleaning:
DE : New Castle, Kent, Sussex
PA : Chester, Delaware, West Montgomery
NJ : Burlington, Camden, Cape May, Cumberland, Gloucester, Mercer, Salem